Canvas course issue detected
If end-users report seeing the following error: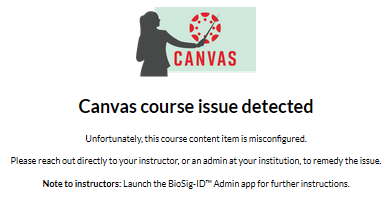 Then please use the BioSig-ID™ Admin app to fix the quiz-links on this copied course.

Admins with enough access can do this for a term, or the entire Canvas instance.

Related Articles

Canvas Installation Guide

Introduction Recently, BioSig-ID created an additional app that reduces the manual processes of creating guarded quizzes and tool instances. This app will allow you to efficiently create guarded quizzes, tool instances and instructions within your ...

Canvas BioSig-ID Admin App

Getting Started Click on BioSig-ID™ Admin tool in the Course Navigation menu. If this item is not available, please contact your Canvas Admin to have this item enabled. Click on Authorize to allow BioSig-ID™ access to your course. To take this new ...

Course Set-Up

Best Practices There are a few best practices that we would like to share when adding BioSig-ID to courses. We will discuss instructions, placement of BioSig-ID and how often a user should validate in a course. Institutional polices are another ...

Adding BioSig-ID to a Schoology Course

This article will show you how to easily add a BioSig-ID™ validation inside a Schoology course. BioSig-ID validations can be placed within the course prior to items such as discussion boards, quizzes or assignments. If you need additional ...

Blackboard Adding BioSig-ID to Your Course(s)

Introduction The Biometric Signature ID (BSI) Building Block for Blackboard Learn 9.1 provides a mechanism to require a user/student to validate their identity when needed. This process is split between enrollment for the user to create their initial ...